COVID-19 UPDATE
The Wilderness Golf Club team is closely monitoring the impact of coronavirus and taking preventative measures to ensure that we are providing the highest level of service and cleanliness to our guests.
We are following the guidelines established by the CDC for preventing the spread of the virus, and we have implemented additional sanitation measures at our facility to mitigate risk and reduce the spread of germs.
This includes the following procedures:
We have increased frequency in cleaning schedules with a focus on public areas, including handrails, door handles, cash machines and other high-touch common areas.
We have implemented enhanced food and beverage health procedures in our dining outlets.
We have installed additional sanitizing stations throughout our facilities.
We have provided additional disinfectant wipes to staff and guests.
We have posted visual signage throughout our facilities to encourage staff and guests to wash hands thoroughly and disinfect workstations, along with verbal and email communication.
Whenever possible, we are replacing standard beverage stations with single use products.
The health and safety of our staff and guests is our highest priority. We will continue to work with health experts to ensure that our staff is informed and prepared to host you at The Wilderness Golf Club. However, as we have told our staff, if you are feeling sick or exhibiting any signs of illness, please stay home and rest.
With proper precautions, golf can serve as an outlet for space and enjoyment during this time.
We appreciate your support and cooperation to create a safe and healthy environment at The Wilderness Golf Club. Please feel free to contact us with any further questions at 979-297-GOLF (4653) and continue to check this page for further updates.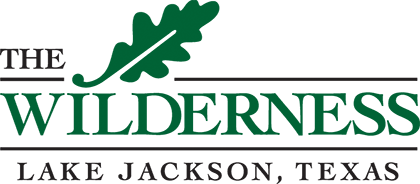 "The Wilderness at Lake Jackson transcends time and delivers guests back to the days when early settlers traveled from town to town in search of the next gold nugget."
---
501 Hwy. 332 - West PO Box 308
Lake Jackson, TX 77566
979-297-GOLF (4653)