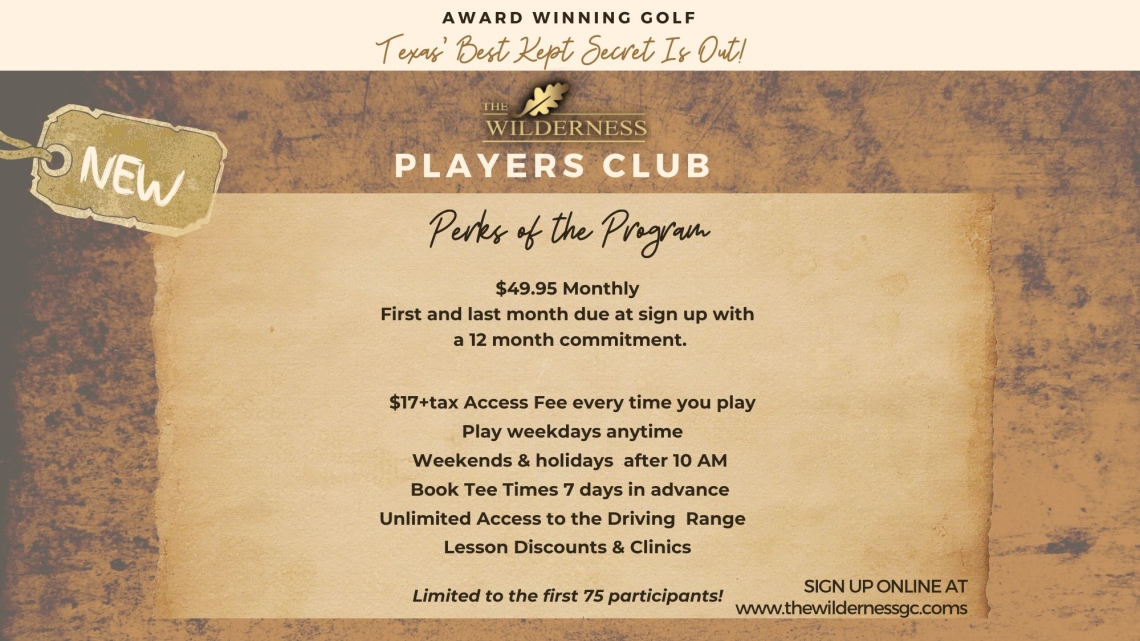 Players Club - Monthly Pass Holder Program
$120 Initiation Program Fee June 1st
Cost: $49.95/month
Players Club Pass Holders participating in the Program enjoy unlimited playing privileges at The Wilderness Golf Course subject to applicable daily access fees and on a space available basis. Non-Pass Holders accompanying Pass Holders will pay regular rates. TWGC reserves the right to impose additional restrictions on the availability of tee times during peak or high usage seasons, in its sole and absolute discretion.
Players Club Pass Holders are entitled to a daily access rate (ride or walk) of $17 plus tax anytime during any weekday (Monday – Thursday) and weekends (Friday – Sunday) & holidays after 10:00am.
$120 Initiation Program Fee waived if you are one of the first 75 to register.
First & Last Month Due Upon Registration. 12 month commitment required.
Players Club Pass Holders Pass will include use of the driving range and practice facility.
Players Club Pass Holders receive 10% discount on all regular priced merchandise purchases made from The Wilderness Golf Course Golf Shop.
Players Club Pass Holders receive discounted rate on golf lessons.
Players Club Pass Holders will be entitled to discounted rates at special events at The Wilderness Golf Course.
Players Club Pass Holders may book tee times up to seven (7) days in advance at The Wilderness Golf Course.
Players Club Pass Holders are invited to an Open House year-end party each year in December, subject to availability of banquet facilities.
Some frequently asked questions regarding the Player's Club Pass:
Are there any tee-time restrictions?
Yes, Players Club Pass Holders can play make tee-times Anytime Weekdays & AFTER 10AM ON WEEKENDS (Friday – Sunday) . Will the after 10am on weekends be strictly enforced? Yes. If you are wanting to play Weekend mornings early before 10am we have a 7-day Annual Pass Available. Registration Link http://www.thewildernessgc.com/-7-day-annual
When will the billing start?
Billing for The Player's Club Pass will not take place until we officially reopen. We bill first and last month in month #1 then $49.95 then next 10 months. Monthly Billing takes place first 10 days of the month…usually on or around the 10th.
Does the Player's Club include a cart?
Yes the $17.00 plus tax ($18.40) access fee includes a cart if you want to ride
Are range balls included?
Yes range balls are included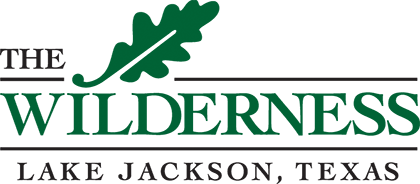 "The Wilderness at Lake Jackson transcends time and delivers guests back to the days when early settlers traveled from town to town in search of the next gold nugget."
---
501 Hwy. 332 - West PO Box 308
Lake Jackson, TX 77566
979-297-GOLF (4653)